Tag:
zinc kettle manufacturer
Galvanizing has emerged as one of the most reliable techniques to apply a coating on iron-made items. A robust zinc kettle is an essential element of this entire process. A scientifically designed zinc galvanizing plant comprising a wide range of processes for zinc coating on a wide range of products, like pipes, wires, rods, and components enables successful galvanization.
The magic of the zinc layer
The extremely thin zinc layer adds plenty of features to the coated metal, including resistance to corrosion and durability. You don't require deep knowledge to solve this question. The durability of metal is directly proportional to its ability to resist corrosion. Since the zinc layer imparts incredible properties to the metal, it lasts up to 70-80 years. Even more than that. Zinc kettle manufacturer hold professional experience in building zinc galvanization plant 's machines and tools. You can raise your doubts and queries to the manufacturer.
An important question arises here, why is zinc used in zinc galvanizing plant and not any other metal? This will remain the key focus of our blog. Many people, especially students, want to learn about this mystery. In this blog, we are going to solve this vital question.
 Why not copper in place of zinc?
That's an obvious question many of you might be thinking to raise. Why not copper in place of zinc for carrying out the galvanization process and applying a coat, after all even copper doesn't rust either. According to the experts, zinc protects steel-made items from rusting in many ways, copper can't.
Metals that are more reactive in nature, protect metals that are comparatively less reactive by losing electrons first. According to metallurgy experts, zinc is more reactive than any kind of steel, making it ideal for the galvanization process. On the contrary, steel is more reactive than copper. Your answer lies here. Since steel is more reactive than copper, if we apply the copper coating for galvanization, if copper got scratched, the steel beneath it would corrode faster whereas copper maintains its original shape. Therefore, it makes sense to use galvanization. Consequently, giving rise to the demand for zinc kettle, zinc galvanizing plant, and zinc kettle manufacturer. Does it mean copper can't be used to galvanize steel?
Copper is required for weathering steel
What is corten steel or corten weathering steel? Copper has found usage in processing weathering steel. It is famous in industry circles as COR-TEN steel. It is a high-strength steel alloy. Steel-made items when galvanized with copper become weathered in appearance. It is necessitated to meet the architectural requirement. So, next time when someone says can we use copper for galvanization? You have the right answer.
Some metal oxidizes faster than others
Yes. That's absolutely correct. Under the process of galvanization, zinc oxidizes and endures acid corrosion sacrificially to steel.  It means zinc is straightaway in contact with acids and oxygen that target steel. Zinc coating saves the steel beneath from corrosion. A zinc kettle as the name indicates is ideal for hot–dip galvanization.
Summary
Zinc-based galvanization is changing the face of the galvanization industry across the globe, including India. With the rapid rise in economic activities across the globe, zinc kettle manufacturer is continually getting orders.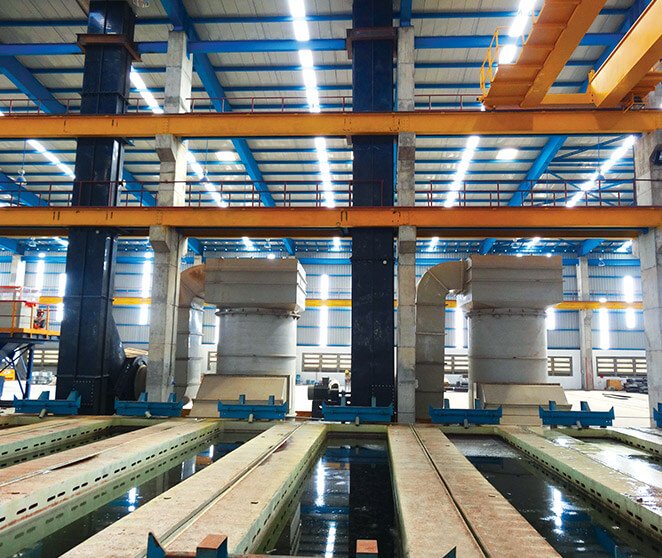 In this era of rapid industrialization, pollution control systems are a must to save the environment from getting polluted, at the same time protect human beings from getting infected.  In this blog, we are going to going focus on the significance of pollution control equipment and how they are benefitting a wide range of industries.

Learning about pollution control equipment
Pollution control equipment manufacturers are engineering a wide range of products to control pollution. These are designed to remove and control pollutants from industrial waste water, or air before releasing them into the environment.
Major pollution control equipment  
In this section, we are going to highlight a few major pollution control systems manufactured by leading pollution control equipment manufacturers in Ahmedabad. Here we are discussing pollution control equipment designed for the galvanization industry. These include an acid fume extraction system, white fume extraction system, furnace fume enclosure, wet scrubbing system, dust collection filter system, etc. For in-depth information, you can connect with a leading zinc kettle manufacturer.
 Why should industries use pollution control equipment
Improved environmental performance of machines and equipment
Enhanced compliance with local bodies' rules and regulations
Prevention of pollution
Conservation of resources
Operational efficiency
Improved employee morale
Enhanced image with the public, regulators, lenders, and investors
In addition to the aforementioned benefits, the vital equipment also improves the health of employees as this equipment controls the inhalation of pollutants.
Industries drawing benefits from pollution control machines, tools, and equipments
By using premium quality pollution control equipment, a wide range of companies are removing pollutants from their manufacturing unit. Some of these include
Steel
Textile
Tyre
Chemical
Plastic
Zinc Kettle, Hot-galvanization process, and pollution control equipment
Zinc Kettle manufacturers are building a wide range of pollution control equipment since the hot galvanization process emits harmful fumes. Coming to the importance of zinc kettle in the galvanization process, the robust reservoir is utilized to galvanize small to large-sized components, for example, fasteners, auto parts, poles, pipes, wires, pillars, etc.
As far as the size and capacity of the zinc kettle are concerned, it weighs around 30 tons. Weight varies from manufacturer to manufacturer and also depends on the requirement of end users. The mechanized kettle can hold around 250 tons of molten zinc. The temperature inside the kettle hovers around 445°C to 465°C. Metallic items to be galvanized are immersed in the molten zinc. As a result, the items are coated with a layer of zinc. This thin layer acts as a shield and protects the metallic components from corrosion.
White fume extraction system
When steel-made items and components are immersed inside the zinc kettle for galvanization, subsequently chemical reaction takes place and leading to the generation of white fumes. These fumes are harmful in nature and have the intensity to damage man and machinery. Therefore, these fumes should be captured during the galvanization process. At the same time, if discharged, these fumes will pollute the environment.
The white fume extraction system is designed to capture white fumes to protect both man and machinery. Dust collection equipment is part of the pollution control equipment that is used in the galvanization industry.
Conclusion
Rapid industrialization is going on to fulfill the needs and demands of the rising population and socio-economic development. Sustainable development is the need of the hour. And pollution control equipment by pollution control equipment manufacturers is a way forward.