Tag:
chemical storage tank
Are you into the storage of industrial chemicals? Does your manufacturing company require bulk storage of chemicals? Does your factory use a chemical storage tank? In that case, this short write-up will be an eye-opener for you. Don't miss this crucial post.
Why do industries require chemical storage tank?
Over the years, industrial storage tanks have gained prominence in a variety of industries. As far as application of the tank is concerned, it is primarily used for the following applications:
Mixing the industrial chemicals

Processing of chemicals

Static storage for further use

For transporting raw chemicals

For transporting finished chemical products
These tanks are available in a wide range of shapes and sizes to meet the requirements of industries.
Unique features of a quality-driven chemical storage tank
This is one of the most significant sections of this write-up. How would you ensure that the tank, you are all set to purchase is of premium quality? Here's a solution. A premium quality tank is identified with the following unique features:
Manufactured in compliance with German DVS standards

Safe handling

Leak-proof

Corrosion resistant

Lightweight and durable

A smooth inner surface which means lower sludge formation and lower cleaning costs

Easy installation

Safe for the environment
Chemicals to be stored
The uniquely manufactured chemical storage tank is ideal for storing a vast variety of chemicals, including fertilizers, propane, liquefied natural gas (LNG), petroleum products (gasoline, diesel, petrol, etc.), sulphuric acid, crude oil, ethylene, etc.
When choosing a tank, make sure, it has the properties and endurance to store the chemical. In this regard, you can have a serious dialogue with the chemical storage tank manufacturer.
Material of storage tanks
Industrial storage tanks are manufactured from different materials, including steel, PVC, aluminum, FRP, HDPE, etc.
Undertake a due diligence exercise to choose the perfect chemical storage tank for your industry. It shouldn't be an impromptu decision.
Manufacturing industries are showing a positive growth trajectory, riding on continued growth in economic activities globally. As industrial growth is going upward, the demand for acid storage tanks is also increasing. This is a positive sign for companies engaged in manufacturing industrial tanks in India.  

Learning about chemical storage tanks
These tanks are designed in a special way to minimize the ice crystallization process and other harmful effects during storage. These tanks are engineered to hold and store different types of liquids and gases at varying pressure and temperatures.  The special tanks are available in various shapes and sizes. As far as mounting is concerned, these tanks are mounted both vertically and horizontally.
Unique features of premium quality acid storage tank
In this section, we are going to talk about salient features of chemical storage tanks. Consider these features while choosing storage tanks for your industry:
Corrosion resistant
A protective cover prevents bumps
The matching lock cover protects
Recyclable
Safe to use
Resin rich surface
Reliable
Integral leg supports
Durable
As far as costing is concerned, it varies from company to company. We recommend you compare costs before taking a final decision to buy the product.
Types of industrial storage tanks
Manufacturing industries are using a wide range of acid process tanks and industrial storage tanks for a wide range of objectives. Some of the commonly used storage tanks in manufacturing industries are fixed-roof tanks, horizontal tanks, external floating roof tanks, internal floating roof tanks, pressure tanks, doomed external floating roof tanks, LNG tanks, and variable vapor space tanks.
3 commonly used industrial storage tanks
In this important section, we are going to talk about 3 commonly used industrial tanks. These have been classified based on their storage objectives.
Liquid tanks
Bullet tanks
Bunded tanks
Liquid tanks
As indicated by the classification, these specially designed industrial chemical storage tanks are manufactured for safely storing volatile and non-volatile liquids industrial liquids. Given their importance and application in manufacturing industries, these are engineered by using robust raw materials combining the latest machines and tools. These can withstand corrosion and other harsh environmental conditions.
Bullet tanks
These types of acid process tanks are cylindrical in shape and are designed for bulk storage in large tanks. As far as applications are concerned, the bullet tanks are engineered for storing low melting points liquefied gases, for example, butane and ammonia.  These tanks can hold bulk quantities of gases under a temperature below – 148 degrees Fahrenheit.
Bunded tanks
This is a special type of industrial storage tank as these tanks possess a secondary containment tank on their outer side. What is the purpose behind the outer tanks? The outer tanks act as a catch system for preventing oil spills.  As oil spill leads to harmful effect on the environment, the protective layer adds to the robustness of the tank.
Custom-designed acid process tanks
A few leading acid process tank manufacturers in Ahmedabad hold the expertise to deliver custom-designed chemical storage tanks.  For your specific requirement, you can connect with a leading chemical storage tank manufacturing company. Never settle for less. Inferior quality wouldn't serve any purpose.
Conclusion
Quality makes all the difference. Never compromise with the quality of the acid storage tank.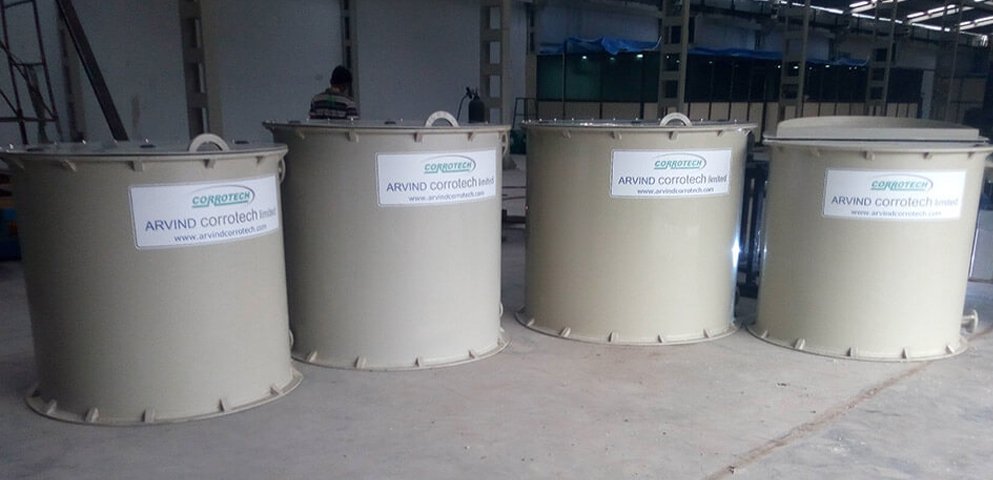 Liquid chemicals must be stored in a safe and secured manner. Else, it may result in some hazards and have negative consequences on the environment. Companies working with chemicals need to store their chemicals for research and production. They must store their items in such a way that it does not contaminate the surrounding environment.
Storing Corrosive Chemicals Still Remains No More a Big Challenge
Storing corrosive chemicals nowadays remains no more a big challenge today. With high quality chemical storage tanks belonging to variable sizes, it has become easy for companies to select the most suitable option for storing chemicals. Want to know the way storage tanks vary? Here it is!
Chemical tanks are regarded as the first method of controlling aggressive and reactive chemical reactions. Thus, companies must shake hands with a reliable manufacturer of storage tanks to ensure high safety. With a plethora of choices available, it will become easy to select the most suitable chemical tank that is suitable for coping with various types of chemicals followed by preventing damage to the environment.
How is a Chemical Storage Tank Manufactured?
What a chemical storage tank is made up of? It is manufactured using highly resistant materials that are specifically resistant to corrosive chemicals. Approaching a reputed supplier may let you come across a wide variety of tanks that include polyethylene tank and plastic storage tank.
Such tanks are known for operating within mechanical requirements of the application. To be precise, they will be compatible enough to store all types of chemicals. High quality storage tanks will be able to withstand factors that include:
Extreme temperature especially in case of liquid nitrogen
Extreme heat
Easy transportation of chemicals from one place to another
Pressure
Companies looking for eco-friendly storage tanks that will be able to contain chemicals along with their bi-products will benefit from an exporter having a good reputation in Ahmedabad and other parts of India. Also, such tanks will serve among economical options as they will help in saving on overheads of the company.
How Can You Choose the Right Type of Chemical Storage Tank?
Choosing the right type of chemical storage tank today remains no more a daunting task as there is much documentation to assist buyers. It is easy to get latest and updated information from the chemical profile report. It will provide the majority of information about that particular chemical.
Chemical storage tanks are highly crucial for containing highly hazardous chemicals. With a wide range of fluid containment tanks available in the market, making the right selection is now a small piece of toast.