It is clear that white fumes will be discharged by the immersion of steel in the kettle filled with molten zinc. The zinc fumes are hazardous to human health if inhaled. Also, it causes environmental pollution, breaking the pollution control rules, as it is discharges excess. So, it becomes inevitable to equip every hot dip galvanizing plant with a proper white fume capture and abatement system.
Corrotech designs high-performance white fume enclosure system that provides almost 100 percent efficiency for fume abatement. With our intelligently designed enclosures, the fume escape is limited to its absolute minimum. The enclosure is connected with a dust collecting cyclone which is further connected with wet scrubber or a bag filter where fumes are cleaned for efficient filtering before it exits into the atmosphere.
Corrotech designs white fume enclosure system of two types – a fixed fume enclosure over the furnace and a crane mounted enclosure that travels with the overhead crane. The selection of the enclosure depends on the type of the equipment layout. We design the enclosure system with utmost excellence, keeping the safety factor in mind. Both the enclosure systems have sliding doors and side windows for quick and easyash skimming, ensuring worker protecting against falls and splashes. The fume enclosure system allows you to stay in compliance with the requirements of the pollution control board, industrial safety and health regulations, and OSHA. All in all, it encourages a better working environment.
Equipment Design
Crane mounted enclosure for cross shop layout
Fixed fume enclosure for in-line shop layout
Efficient, uniform, fume extraction
Pneumatically and hoist operated doors
Splash-proof
Easy accessibility for skimming zinc ash
Viewing windows having toughened glasses fixed over a steel frame
Equipped with sodium vapor lights mounted on the roof of the enclosure
Designed for its easy removal during the replacement of kettle in the future
Extraction duct is placed on the roof connecting with the bag filter / cyclone and scrubber
Benefits and Cost Savings
Lowers zinc and fuel consumption
Increased shed life by eliminating fumes
Improved visibility in the shop floor
Eliminate safety and health risks due to hazardous fumes
Eliminate accidents of serious nature in event of zinc splash
Fixed Fume Enclosure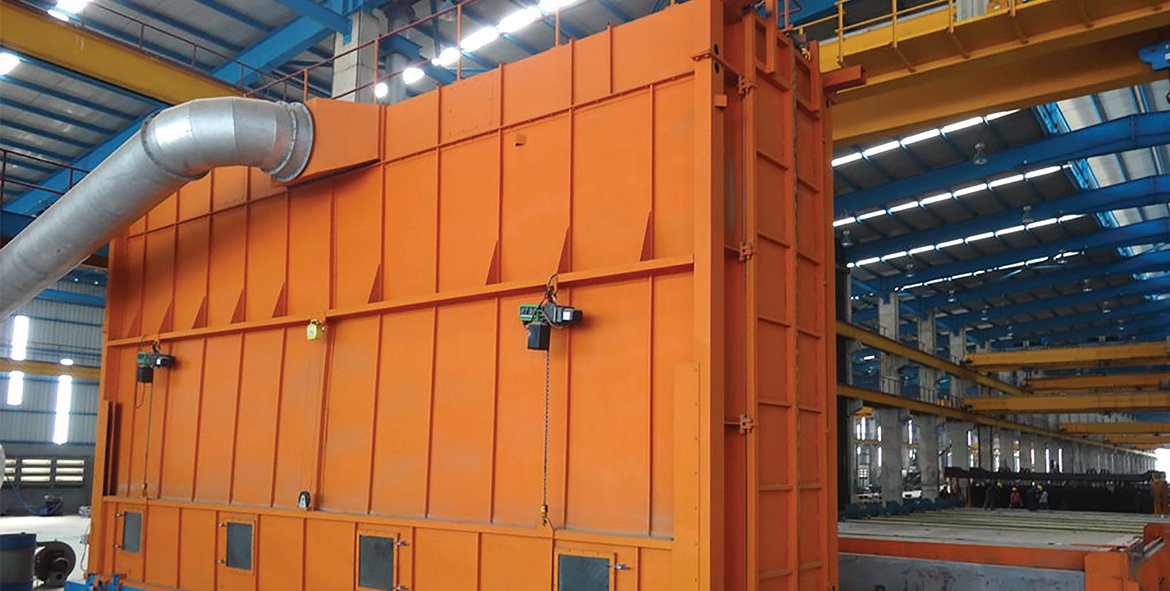 Fixed Fume enclosures are used with a monorail hoist system. They are arranged as a single assembly structure to facilitate ease of changing the kettles. The enclosure system is incorporated with four stage rotary limit switch in the hoist unit to ensure limit protection as required in the safety standards. The work enters the enclosure through pneumatic doors mounted at the ends of the furnace. In case of door hoist failure, there are arresters to ensure safety. We offer premium quality systems that contain enclosed electrics and acid-resistant paint. Fixed fume enclosure system is completely safe with two-stage opening and is robust and highly reliable.
Crane Mounted Enclosure
Crane mounted enclosures travel with the overhead crane and are used in cross-shop process tank layout. A fume collection hood is suspended from the overhead crane, aided by four flanged connections. So, as a Fixed Fume system, it also has four stage rotary limit switches for maximum protection. It has push button controls to help automatic operation. There is a two-stage opening to prevent fume spillage on opening. It has a roof slot seal system for the fume extraction directly from the roof. However, the roof is robustly designed with rubber seal prevention to prevent fume escape when the hoist rope passes through the roof enclosure. Crane Mounted Enclosure is highly safe and efficient for fume abatement.
Other Products
Explore our premium range of products that are specially fabricated for your galvanizing facility.