Due to ever-increasing fuel prices, there was a need for coming up with a furnace design that could meet the challenges and lend the desired efficiency. Leveraging the right mix of pulse firing and high velocity technology, Corrotech designs Pulse Fired High Velocity Furnace which is robust, reliable, and highly fuel-efficient.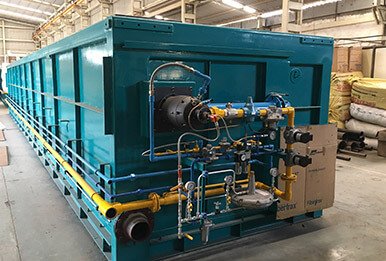 Pulse firing technology operates the burner at a rate that is very close to the most efficient firing setting and thereby creating an ideal operating condition which consequently provides maximum heat transfer and minimum fuel input. High Velocity technology based on the principle of turbulence, optimizes the process of heat exchange between the spent fuel and the kettle wall and solves the issue of temperature gradients in kettle due to heat transfer in high velocity. While pulse firing utilizes the burner at the most efficient firing rate transferring maximum heat energy to the furnace load in less time through minimum fuel use. High velocity burner produces maximum heat transfer to the load within the kettle wall.
Our experience and qualified engineers assemble the design to ensure easy maintenance, high productivity, maximum kettle life, improved temperature uniformity, low NOx emission, improved turndown and most importantly low fuel and zinc consumption.
Design features
Fully automatic operation with auto ignition and flame monitoring system.
PLC based burner management system supported by HMI and SCADA systems.
Lined with high density ceramic fiber modules and blankets, the furnacedelivers high fuel efficiency.
Variants include dual fuel (oil & gas), oil (LDO/HSD), and gas (PNG/LPG).
Drives for precise control of combustion air.
Retractable high Ni/Cr props for kettle supports. Kettle installed with heat shields & dross protection.
Benefits and Cost Savings
Aided by high velocity fuel circulation, the zinc temperature is uniform resulting in lower zinc consumption.
Aided by high velocity fuel circulation, the zinc temperature is uniform resulting in lower zinc consumption.
Low ash and dross formation.
Long kettle life.
Almost free of maintenance.
Lower NOx; burners run at high fire with low excess air.
Other Products
Explore our premium range of products that are specially fabricated for your galvanizing facility.